Fr. Bianco's Message for the Week: June 10, 2022
Dear Cathedral Parishioners,
Last Sunday, on the Solemnity of Pentecost, Archbishop Lori confirmed 85 adults and young people from around the Archdiocese of Baltimore. It was a day of grace and joy as we celebrated the Gift of the Holy Spirit. Among those confirmed were three of our own Cathedral parishioners: Jack Bowman, Zach Renzi and Owen Gilligan. We congratulate them on completing their Sacraments of Initiation.
Next Sunday, June 19th, is the great Solemnity of Corpus Christi, or the Most Holy Body and Blood of Christ. Please join us for a special Mass celebrated by Archbishop Lori that day at 11:00 AM. People from all over the Archdiocese will join us for that Mass followed by an outdoor Eucharistic procession around the Cathedral. To celebrate the diversity of the Archdiocese of Baltimore, there will be various music groups present to offer musical selections at Mass and during the procession. This is a family-friendly event that includes free Kona Ice and kids' bounce houses. First Communicants are welcome to wear their First Communion outfits.
Father's Day is approaching (June 19th) and one of the best ways to remember our fathers, both living and deceased, is to have Mass offered for them. Father's Day Novena cards and envelopes are available in the sacristy and at the parish center. All names enrolled in the Father's Day Novena of Masses will be placed on the altar from June 19-27 and are due by June 16th.
The Evening of Praise Holy Hour will resume in September on the 2nd Wednesday of the month. Eucharistic Adoration is still offered every Wednesday from 6:00-8:00 PM.
Beginning Friday, June 17th, the Parish Center will be closed on Fridays during the summer months. The Mass and confession schedule will not be affected by this change.
May God bless you.
Father Louis A. Bianco
Rector
---
Welcome to The Next Ten! Every weekend, we'll include a list with what's happening in the next ten days at Cathedral. For more details, call the Parish Center (410-464-4000) or visit our website (www.cathedralofmary.org).

The Next Ten:
6/11 – Marriage Vow Renewals – After all Masses
6/12 – Marriage Vow Renewals – After all Masses
6/15 – Eucharistic Adoration – 6-8 PM
6/17 – Parish Center Closed – Summer Hours
6/18 – AOB Priesthood Ordination – Main Church – 10 AM
6/19 – Corpus Christi (And Father's Day)

11 AM Mass & Eucharistic Procession with Archbishop William E. Lori
---
Giving Report:
Giving Report: Last weekend, offertory totaled $6,367.20. Poor Box donations were $397.76. Online giving in May totaled $57,333.50. Thank you for your generosity!

Find out more information in how to enroll in Online Giving below.
---
Giving Resources:
Make a one-time gift on FaithDirect at the Archdiocesan giving page (select Cathedral), or by texting the word "Give" to 410-390-0999.
Set up recurring online giving with Faith Direct (Cathedral's code is MD500) or by texting the word "Enroll" to 410-390-0999.
Drop off donations at the rectory - there is a secure box at the front door to leave envelopes/letters.
Mail your donation to us at 5200 North Charles St., Baltimore, MD 21210.
We've created this easy guide to set up online giving.
---
So far we have raised $224,280, which is 90% of our goal.
This year instead of our parish only receiving a portion of funds raised for the Appeal for Catholic Ministries, Cathedral will keep 100% of all donations up to $250,000. Any funds raised over our goal will support the many important ministries of the appeal.
The funds will go towards several projects that will benefit the entire Cathedral campus. For more details please visit our website. Thank you for your generous support!
---
What's really happening when we celebrate the liturgy?
Discover the spiritual wealth and transcendent grandeur of the Church's liturgical prayer with Joseph Ratzinger's book, The Spirit of the Liturgy. Over four weeks, Fr. Justin Gough will lead a study of this modern theological classic and explain how it is still relevant to issues surrounding the liturgy today.
Classes will be held Saturday mornings in July from 9:00-10:30am in the Parish Center of the Cathedral of Mary Our Queen starting July 9. Parishioners of any parish are welcome. Please register in advance.
---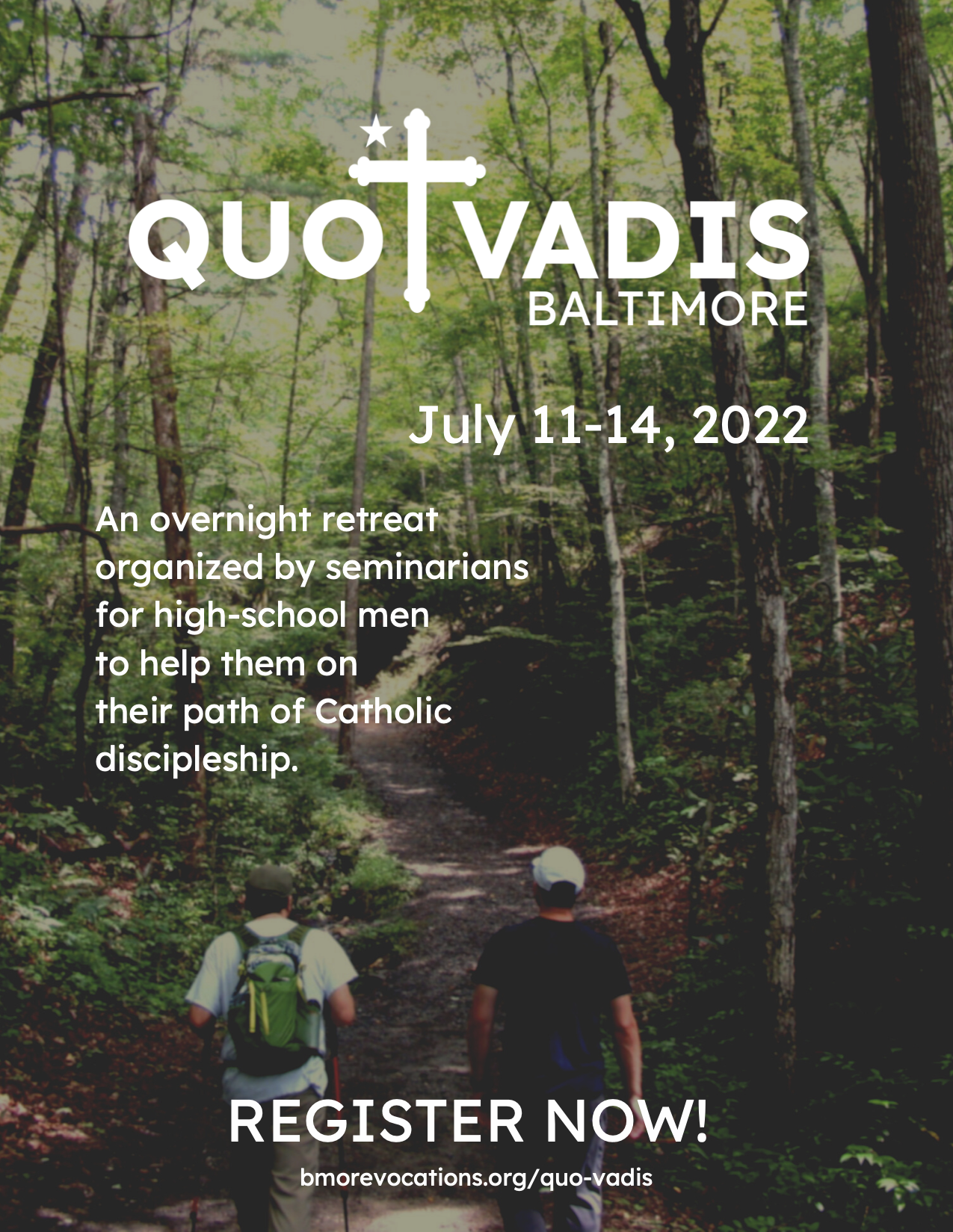 ---
St. Vincent de Paul Furniture Donations
Are you refurnishing or downsizing? The Resource Exchange Ministry of St. Vincent de Paul in downtown Baltimore needs gently used, clean furniture and household goods. For a decade parish volunteers have been working with Health Care for Homeless to furnish the apartments of their newly housed clients.
More information can be found here: https://www.stvchurch.org/justice-service/the-resource-exchange. To donate, please leave a message on their website or at 410-657-5874.
---
Resources:
Mass webcast here - all Masses are livestreamed

Mass is broadcast Sunday at 11am on Ch.24 (MyTV Baltimore): Comcast (24), Verizon (509), DirecTV/DISH (41).

myParish app: Download by texting "app" to 88202 or visiting the App store.
Rosary: Watch on our YouTube channel playlist here.
Reflections: Sign up here for our weekly email Reflection series.
---
Pass this along to a friend! Encourage someone you know to sign up for one or more of these options:
Questions? Email Lisa Kantz.