Fr. Bianco's Message for the Week: June 3, 2022
Dear Cathedral Parishioners,
This week was Chris McCullough's last with us as Director of Evangelization and Faith Formation. We pray for Chris and wish him well as he responds to the ways in which God is calling him. I want to thank Chris for the many ways over the past seven years in which he has given himself in teaching the Faith and forming Cathedral parishioners to be disciples of Christ. May God continue to bless him in forming missionary disciples.
Our Family Faith Formation Program registration is now active. If eligible, you should have received an e-mail from Chris McCullough instructing you to register your child(ren) for Family Faith Formation and for First Holy Communion preparation if your child is entering the second grade. Please visit the Cathedral website to register as soon as possible.
We are making great progress on the Annual Appeal for Catholic Ministries. As of May 25th, we have raised $225,000 toward our goal of $250,000. That's 90% of our goal with six months to go. We are ahead of last year's progress, thanks to the generosity of all of you. Once we achieve our goal of $250,000, the additional money raised will go toward the important ministries of the Archdiocese of Baltimore. This appeal runs for an entire calendar year, so we have six more months to achieve our goal and to go beyond it. To make a gift you may use an appeal envelope found at all entrance tables or visit our website. Thank you for your generosity.
Father's Day Novena Mass cards are now available in the Sacristy in the Cathedral, as well as at the Parish Center through June 16. The customary donation is $10.00 per card. If paying with cash, change will not be available. The envelopes will be placed on the altar June 19-27.
Earlier in May, the Cathedral hosted the Walk for Life for PCN. We received this note of thanks from Cindi Ritter, the Executive Director:
"Pregnancy Center North would like to express our sincere gratitude and appreciation to the Cathedral of Mary Our Queen parishioners who participated in our recent Walk for Life fundraiser, which raised more than $48,200. We also would like to extend a special thank you to Fr. Bianco, Lisa Kantz and Isabella Marcelino for making this event possible. The Cathedral's team came in second place out of 13 church teams and raised a total of $7,875! These funds will be used to support the center's free medical, educational and resource programs that help women in unplanned pregnancies choose life. For 40 years, Pregnancy Center North has been serving approximately 700 women annually. The center is funded solely by donations and fundraisers such as this, so your support really does help save lives! Thank you, and may God bless you and your loved ones."
May God bless you.
Father Louis A. Bianco
Rector
---
Welcome to The Next Ten! Every weekend, we'll include a list with what's happening in the next ten days at Cathedral. For more details, call the Parish Center (410-464-4000) or visit our website (www.cathedralofmary.org).

The Next Ten:
6/03 – 8th Grade School of the Cathedral Graduation – 3:30 PM
6/04 – Saturday Devotions – 7 AM
6/05 – Pentecost Sunday: Adult Confirmations – Main Church – 3 PM
6/08 – Eucharistic Adoration – 6-8 PM
6/11 – Marriage Vow Renewals – After all Masses
6/12 – Marriage Vow Renewals – After all Masses
6/15 – Eucharistic Adoration – 6-8 PM
6/17 – Parish Center Closed – Summer Hours
6/18 – AOB Priesthood Ordination – Main Church – 10 AM
---
Giving Report:
Giving Report: Last weekend, offertory totaled $4,109.47. Poor Box donations were $158.53. Online giving in May totaled $57,333.50. Thank you for your generosity!

Find out more information in how to enroll in Online Giving below.
---
Giving Resources:
Make a one-time gift on FaithDirect at the Archdiocesan giving page (select Cathedral), or by texting the word "Give" to 410-390-0999.
Set up recurring online giving with Faith Direct (Cathedral's code is MD500) or by texting the word "Enroll" to 410-390-0999.
Drop off donations at the rectory - there is a secure box at the front door to leave envelopes/letters.
Mail your donation to us at 5200 North Charles St., Baltimore, MD 21210.
We've created this easy guide to set up online giving.
---
So far we have raised $224,280, which is 90% of our goal.
This year instead of our parish only receiving a portion of funds raised for the Appeal for Catholic Ministries, Cathedral will keep 100% of all donations up to $250,000. Any funds raised over our goal will support the many important ministries of the appeal.
The funds will go towards several projects that will benefit the entire Cathedral campus. For more details please visit our website. Thank you for your generous support!
---
What's really happening when we celebrate the liturgy?
Discover the spiritual wealth and transcendent grandeur of the Church's liturgical prayer with Joseph Ratzinger's book, The Spirit of the Liturgy. Over four weeks, Fr. Justin Gough will lead a study of this modern theological classic and explain how it is still relevant to issues surrounding the liturgy today.
Classes will be held Saturday mornings in July from 9:00-10:30am in the Parish Center of the Cathedral of Mary Our Queen starting July 9. Parishioners of any parish are welcome. Please register in advance.
---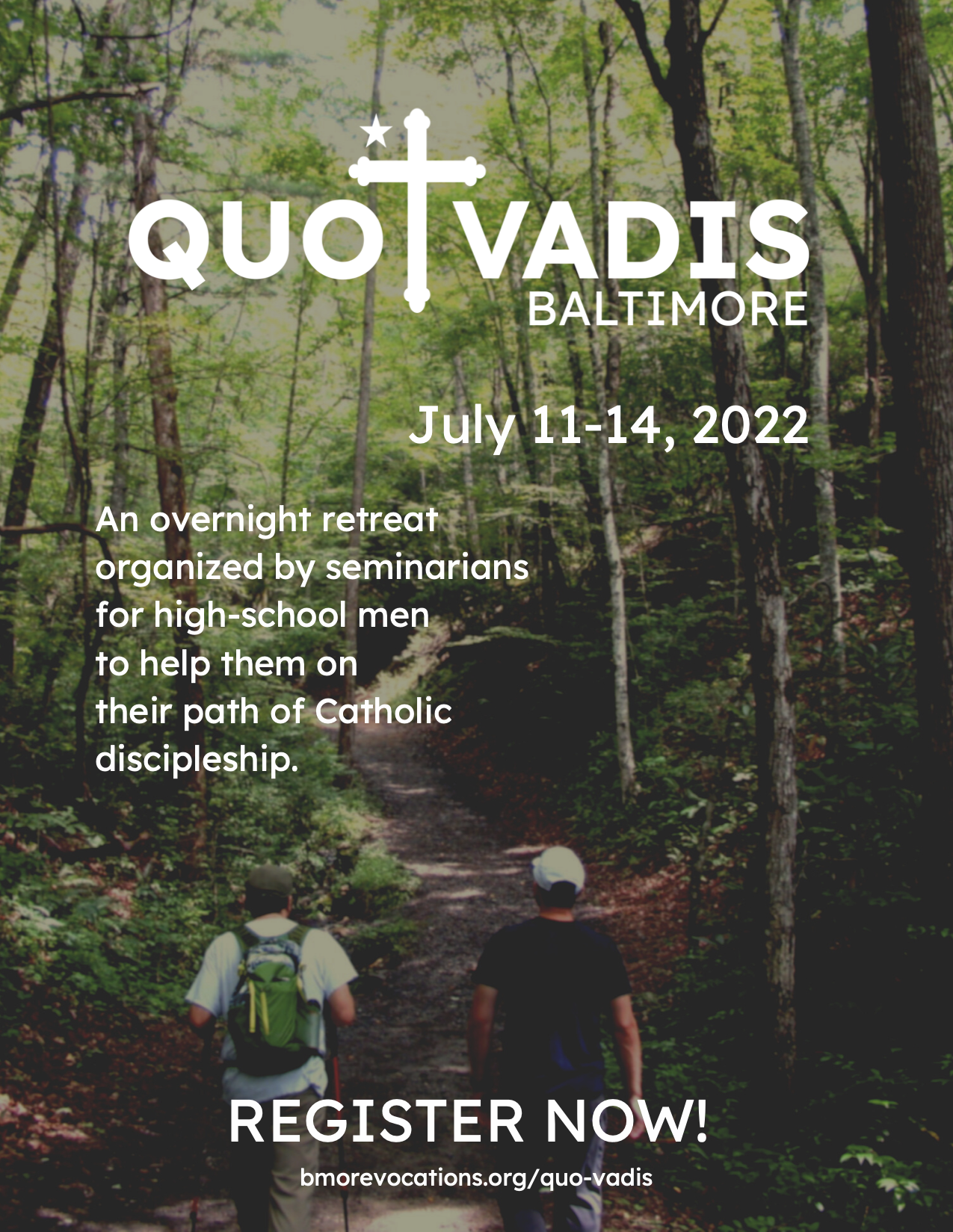 ---
Resources:
Mass webcast here - all Masses are livestreamed

Mass is broadcast Sunday at 11am on Ch.24 (MyTV Baltimore): Comcast (24), Verizon (509), DirecTV/DISH (41).

myParish app: Download by texting "app" to 88202 or visiting the App store.
Rosary: Watch on our YouTube channel playlist here.
Reflections: Sign up here for our weekly email Reflection series.
---
Pass this along to a friend! Encourage someone you know to sign up for one or more of these options:
Questions? Email Lisa Kantz.